Hybrid refurbishment to bring a stately Borders home back to life
October 19 2022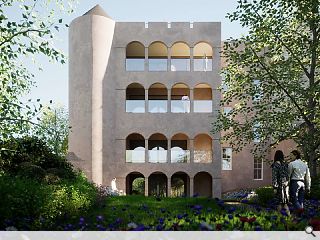 A ruinous B-listed Borders castle is set for a new lease of life with proposals for its full refurbishment as a palatial home.
Cameron Strachan Yuill Architects with Narro Associates propose the repair, refurbishment and extension of Cavers Castle, around 10 miles east of Hawick; including the reinstatement of a lost 18th-century wing.
Set within mature woodland the crumbling pile is all that remains of a once grand estate house, largely demolished in 1953, that traces its origins back to a 16th-century tower house. This latter element remains partially intact, together with elements of later remodelling in the 18th and 19th centuries, and forms the basis for its 21st-century revival.
Avoiding the prioritisation of any one era the design team will introduce more contemporary elements while ensuring the grounds are made more accessible to visitors. In a statement, the architect wrote: "The applicant's ambition is restore the grandeur befitting of a stately home. Given the building's adaptation and development over centuries, largely driven by trends and fashion, the proposals do not seek to emulate a previous design specifically.
"The design is respectful of the building in scale, proportions and materials while being more contemporary in its aesthetic and upgrading it using modern technology."
Key to this approach will be the reinstatement of a northern wing, adopting a 'hybridised' form of the original Baronial design of 1885 with modern windows and balconies. This will stand alongside the refurbished tower house, a surviving Georgian element and a low-key extension to the south.
New elements of solid masonry will be finished in harling and painted off-white. Landscape works include the reinstatement of a formal drive and repairs to a walled garden.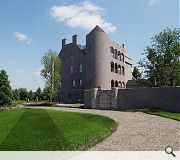 Repaired and new retaining walls will reinstate a lost walled garden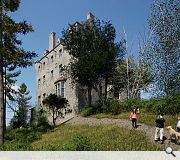 The oldest section of the castle will be fully refurbished and upgraded
Back to October 2022