Greendykes masterplan concludes with 150 homes
October 19 2022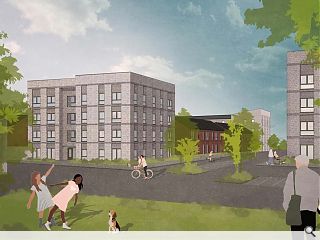 Anderson Bell + Christie are to complete the final phase of the Greendykes North masterplan in Edinburgh with the submission of plans for 28 terraced homes and 122 flats for social and mid-market rent.
The net zero carbon scheme is led by the City of Edinburgh Council and will meet the needs of a broad range of tenants including extended families and wheelchair users.
Working with the current road layout the homes will continue the widespread adoption of brick as a primary building material to mesh with prior phases, utilising both multi-grey and red colour tones to distinguish apartments and houses.
In a statement, the architects wrote: "The Greendykes area is a patchwork of developments with a plethora of different approaches. One element that unifies the area is brick, be it, red, grey or buff. "We are looking to use brick in a method that allows for rhythm across the facades and meshing in with older phases of the area."
Courtyards will house SUDS basins, paths and seating to provide outdoor amenities for residents.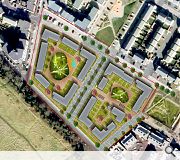 Street frontages and courtyards are treated as distinct character areas
Back to October 2022