Radical surgery for Ocean Terminal secures planning go-ahead
September 22 2022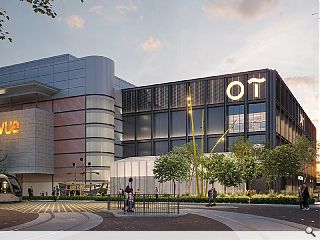 A £100m bid to future-proof the Ocean Terminal shopping mall has earned the blessing of planners at the City of Edinburgh Council.
Phase one consent hands the property and investment group which owns the mall authority to commence reshaping the 20-year-old retail structure as part of efforts to open up the Leith waterfront.
Plans by Keppie Design call for the north end of the mall to be demolished, clearing the way for a new frontage defined by new retail, shops and leisure. Temporary public realm by LDA opposite the Royal Yacht Britannia will also be introduced as a stop-gap before a more permanent solution in phase two.
Chris Richardson, managing director of Ambassador Investments said: "We are delighted that City of Edinburgh Council has supported our plans to reconfigure Ocean Terminal, enabling us to continue to shape the transformation of the centre and its important waterfront location.
"With phase one approved, we now look forward to finalising details for phase two before submitting these plans to the Council later in the year."
Phase two encompasses a further mix of homes and offices as well as a waterfront walkway and cycle track, scheduled to enter the planning system this winter.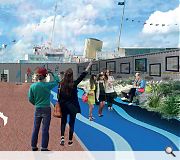 Temporary public realm by LDA opposite the Royal Yacht Britannia will also be introduced as a stop-gap before a more permanent solution in phase two
Back to September 2022