Apartment transformation saves B-listed former Steiner School
September 8 2022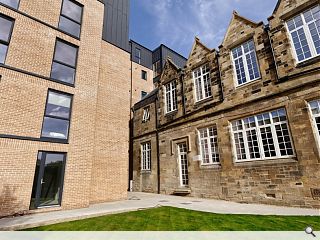 The B-listed former Steiner School on Yorkhill Street, Glasgow, has been transformed into Finnieston's newest residential development.
Comprising 36 apartments ranging from garden duplexes to penthouses the apartments incorporate a 'hidden' courtyard as well as external 'breezeways' to push fresh air inside.
The historic Steiner School had lain empty since 2013 before coming to the attention of Steiner Property, who appointed Grant Murray Architects to oversee its new lease on life. This process saw stonemasons employed to repair facades; including sculpture details such as the school crest and city coat of arms.
Simon Mullen, managing director at Steiner Property, said: "It has been a labour of love, and we have taken great care to ensure New Steiner has everything our buyers would expect. Not only have we partnered with designer kitchen and bathroom brands, but we've also taken a considered approach with the design to pay homage to what's gone before while looking to the future, such as incorporating biophilic design elements with our courtyard garden to help bring nature into the built environment."
The renovated school is joined by a modern build addition featuring floor-to-ceiling windows, balconies and lift access to all levels. The building is topped by twin penthouses with wraparound terraces and private lift access.
Back to September 2022