Liberton Community Campus to redefine the definition of a school
September 9 2022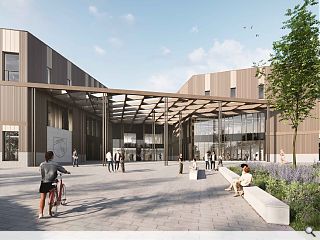 The City of Edinburgh Council has shared plans for a new community campus in Liberton which is being billed as 'more than a school'.
The combined education and community facility seeks to maximise the utility of the site by catering for everyone, by pairing a GP surgery, library, cafe and fitness centre alongside a 1,200-place secondary school to replace the existing Liberton High.
Conceived as a continuation of the recently completed Queensferry and Castlebrae campuses the new school retains only the recently built sports block from the current school.
This frees up the expansive site for a three-storey new build adhering to Passivhaus design principles with teaching spaces oriented to the north and south for maximum solar gain. Both teaching wings are joined by a central dining and social 'street' which doubles as a collaboration space, opening onto an external dining hall at one end and an entrance plaza at the other, the latter element being framed by a large canopy extending to Gilmerton Road.
The prominent front elevation is reserved for a fitness suite and dance studio with a more sheltered gathering space to the western entrance, affording opportunities for dining, growing and play.
Outlining the ethos behind the design the jmarchitects stated: "Entering into the building, you immediately arrive into its dynamic community heart where the library, cafe, reception and school office are located. Different learning activities are visible in the spaces adjoining it.
"From this community space, there are also direct links to the GP surgery waiting room, or the new sports facilities and the assembly hall. It is a space to relax and have a coffee, get a book and a place for students' work to be displayed and celebrated."
Finished in two types of bronze cladding the elevations comprise a mix of vertical metal panels and brise soleil for ventilation and the control of solar heating. Vertical fins are added to the entrance area to lend a civic quality with ribbons of bronze-coloured rain screen wrapping each floor level.
Liberton High School was subject to a deadly wall collapse in 2014.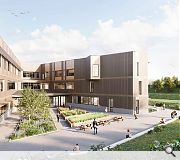 A western entrance forms a sheltered outdoor space for campus occupants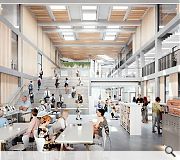 The new school is defined by a shared 'welcome zone'
Back to September 2022