Carntyne munitions factory to be replaced by 128 homes
August 18 2022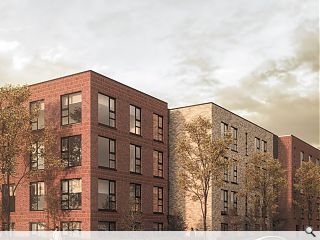 AS Homes have finalised plans for 128 homes on a 2.5-hectare former ammunition factory in Carntyne following public consultations.
A mix of flats and houses are planned for the east end site, the former housed in a feature apartment block at the junction of Myreside Street and Rigby Street overlooking a SUDS amenity space.
Pushing and pulling floorplates to create an irregular facade the design makes use of alternating materials, window fenestration and detailing to give the appearance of multiple blocks rather than a single elevation. A feature corner is also addressed with more generous window proportions.
In a concept statement, S2 Architecture wrote: "A rich reddish multi brick, will be laid in stretcher and header format, as well as a contrasting light grey multi with darker tones. A dark grey brick will be laid at the entrances to the flats and will differentiate to identify flatted entrances.
"As well as differentiating areas with grey and red bricks, the window patterns also vary with each coloured brick with two tall windows in grey with brick in between as opposed to one large opening in red. Within the red bricks we have shown red stretcher course spanning between windows and header courses in the area above windows, and full stretcher course in grey."
The same materials palette carries through to terraced housing in the site interior, with end gables at key locations serving as primary access points to additional passive surveillance.
Back to August 2022