Planning in principle granted for £33.8m leisure-led Perth development
August 18 2022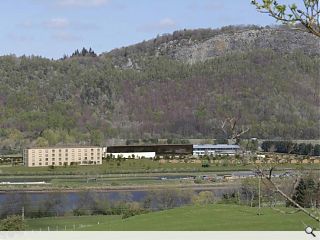 Perth & Kinross Council has awarded planning in principle to a £33.8m leisure-led development at the West Kinfauns headquarters of plant hire firm Morris Leslie.
Outline proposals by ICA call for the creation of a four-star hotel with 150 rooms as well as 52-holiday chalets with supporting retail, establishing a new tourism hub connected to Perth city centre by active travel routes and a proposed park and ride facility.
In approving Perth & Kinross Council wrote: "The development is acknowledged to be a significant departure from the adopted Local Development Plan and therefore requires full council approval. However, it is considered that there are material planning considerations which justify a departure from the development plan, notably the economic benefits for the Perth and Kinross area.
"It is recommended that the extent of the retail floorspace that can be provided as part of the development be restricted to ensure it is proportionate and reflective of the extent of the proposed tourism offer; and that the site does not in itself become a significant retail destination. This restriction is necessary to limit the impact on Perth city centre and other identified retail centres, as well as reducing retail only trips to the site."
Morris Leslie, chairman of Morris Leslie commented: "The proposed scheme is of a scale that can support additional development and is ideally placed in terms of transport connections. It is also in a beautiful location with outstanding views."
A transport museum is also planned to showcase vehicles of the past century as well as significant historical figures in the automotive industry including Buick founder David Buick and William Davidson, co-founder of Harley Davidson.
Back to August 2022