Charing Cross office block to undergo £3m refurbishment
August 17 2022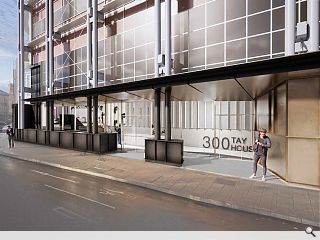 A prominent Glasgow office block is in line for a £3m refurbishment designed to improve street level interaction at a traffic choked intersection.
300 Bath Street is being overhauled by London & Scottish Property Management (LSPIM) with Michael Laird Architects as part of a rebranding exercise to draw new tenants, including Fairhurst.
Elliot Cumming, senior asset manager at LSPIM, said: "300 Bath Street is one of Glasgow's best-known landmarks, stretching across the M8 and linking the West End to the City Centre. It's a very recognisable and unique building, which we will be breathing new life into.
"Our transformation will be more than simply changing the name. We will be improving its specification to meet today`s occupier requirements, including a new feature entrance, and expansive wellbeing amenity, including cycle storage, new showers and a drying room."
A new entrance canopy in matte black metal and champagne-coloured cladding will be carved out of the Bath Street elevation, with infill glazing to match the current facade.
The refurbishment programme will conclude early next year.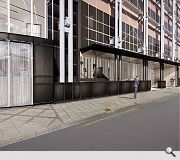 A more spacious sheltered entrance will be pushed further along Bath Street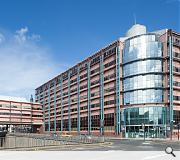 The current ground floor entrance will be converted into a business lounge
Back to August 2022