Twin tower Solasta Riverside complex completes
August 17 2022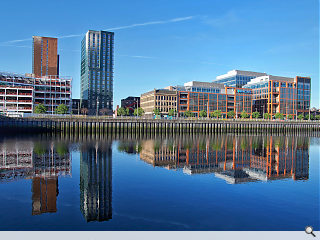 Drum Property Group has delivered 324 build-to-rent apartments at Buchanan Wharf in Glasgow city centre for Legal & General Investment Management (LGIM).
Solasta Riverside comprises two 18-storey apartment buildings in a 280,000sq/ft riverfront complex that includes a dedicated dining space, gym, residents' lounge and games room.
Topped by a 4,250 sq/ft communal roof terrace the towers are the latest addition to Buchanan Wharf, a £500m mixed-use development on the south bank of the River Clyde designed by Stallan-Brand with Halliday Fraser Munro.
Graeme Bone, group managing director of Drum Property Group, said: "The new apartments and facilities will bring an exciting dynamic to the area, making Buchanan Wharf a stimulating and attractive environment in which to live, work, and visit."
Mike Powell, head of transactions, BTR, at LGIM Real Assets, added: "The city has seen particularly low levels of residential development over the last 10 years and an increasing demand for high quality, well-located rental accommodation in the city centre. This acute supply and demand imbalance means the completion of our BTR development at Buchanan Wharf will bring a long-term sustainable rental scheme to Glasgow, meeting the demands of this vibrant and fast-growing city."
The final element of Buchanan Wharf, a 75,000sq/ft office HQ for the Student Loans Company, is expected to complete in 2023.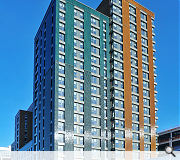 Vertically arranged terracotta 'planks' give the towers a distinctive texture
Back to August 2022