Modernist home to replace a central Edinburgh bungalow
July 22 2022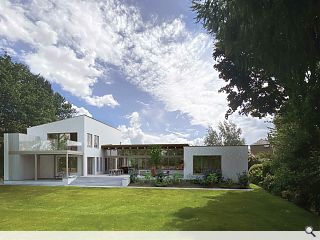 Permission is sought to demolish a 1970s bungalow at Wester Coates Gardens, Edinburgh, in favour of a new build home to better capitalise on its setting adjacent to the Water of Leith.
Drawing inspiration from the modernist homes of Morris & Steedman, Zone Architects propose to create a new home focused on a front courtyard to provide a greater sense of place and arrival.
Utilising timber and brick cladding under a zinc roof the horseshoe plan property centres on a fully glazed living space opening onto an outdoor terrace, flanked by wings of sleeping accommodation to either side.
In a design statement Zone wrote: "The proposed house will be significantly better in quality than the existing house in both architecture and environmental performance. A large site such as this is a rarity in such a central part of Edinburgh and the applicants are committed to making a building of the highest quality.
"The applicants have looked in detail at the options for refurbishment and extension and have concluded that the existing house is not capable of being upgraded to current standards of thermal insulation, and could not take proper advantage of the exceptional garden setting. The existing building was poorly constructed by today's standards, it is a kit house which was not designed for its setting and connection to the garden is awkward."
Stretching to 554sq/m the expansive home includes an outdoor store and rises to two storeys above the main entrance to accommodate a third and fourth bedroom.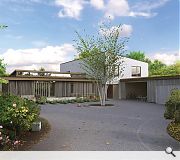 A timber-clad outdoor store and living space flank a new entrance courtyard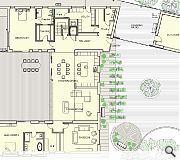 The new build route serves to maximise the potential of open aspects toward the Water of Leith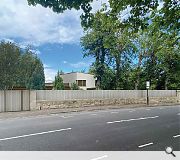 Zone state that the new home will be mostly lower than the existing property
Back to July 2022