Dundee nightclub turns a new leaf with Beano-inspired student flats
July 25 2022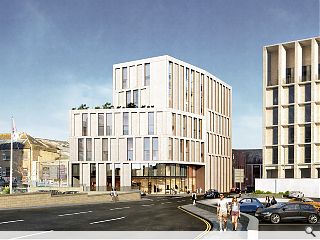 Emerging proposals have surfaced for a major student housing development at 21 South Ward Road, Dundee.
The city centre build is headed up by Consarc Architecture which proposes to demolish the existing Carbon nightclub, freeing up the 0.11-hectare site for development.
The car-free build includes ground floor amenities and an external landscaped court and bike store to the rear, shouldering nine floors of tiered accommodation above. Drawing inspiration from the Beano Consarc is taking a page from Minnie the Minx for its comic-inspired approach, founded on the tripartite heading, body and footer panels that compose a typical page.
Consarc wrote: "The form of the comic panel establishes a 'base', 'middle' and 'top' or attic storey which we will translate into architectural form. This is also seen in the local historic industrial heritage as well as in modern interventions like Dundee House, which broadly follow the same formal arrangement.
"This concept has informed our proportion studies, allowing us to examine how the mass can be arranged, and how it can evolve in detailed design studies going forward."
Dismissing the use of lightweight rain-screen cladding as inappropriate the scheme will instead rely on a masonry finish to tie in with Dundee House.
A roof terrace is envisaged to offer additional amenity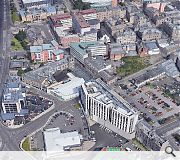 The student flats defer to the adjacent council HQ
Back to July 2022