Delivery of Dunfermline Learning campus commences
July 21 2022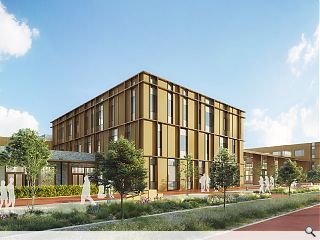 Hub East Central Scotland has moved onto the delivery phase at Dunfermline Learning Campus after agreeing contracts to deliver two new schools with main contractor BAM Construction.
Preparatory workd have already completed, permitting work to begin in earnest on the delivery of a new St Columba's RC High School and Woodmill High School, both of which will be ready for pupils by August 2024.
Standing alongside a new Fife College, delivered in tandem, the shared learning campus will become a focal point for upskilling young people from across the region.
Principal of Fife College, Dr Hugh Hall commented: "We're incredibly ambitious about what we want to achieve with our new campus. Not only will it provide world-class facilities and learning experiences for our students, our communities and regional businesses, the campus will be built to reflect our ambitious Climate Change Strategy and Net Zero commitments."
Reiach & Hall serve as architects of the campus project with Horner + MacLennan as landscape architects.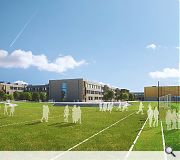 Both schools will share recreation grounds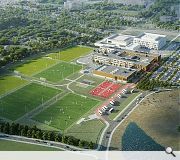 The combined campus will more closely align secondary and further education
Back to July 2022