Glasgow's latest BTR tower tops out at 20 storeys
July 8 2022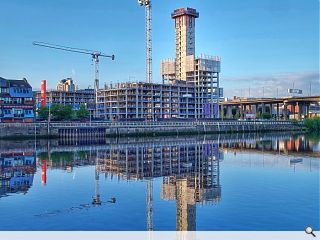 Glasgow's latest build to rent (BTR) tower has stamped its mark on the city skyline in a race to complete with Holland Park.
The 20-storey tower at Central Quay is being delivered by Graham on behalf of Platform_as part of a £100m project designed by Keppie that will include 498 apartments spread across four blocks.
Part of a wave of development to repopulate the city centre the development will be home to 1,000 residents upon completion and include a gym, landscaped courtyard, twin roof terraces, a library and cinema.
Matt James, senior project manager at Platform_, said: "The tower will feature two 19th floor amenity spaces; a residents' lounge and bookable private dining room with breathtaking views across the city."
The development is scheduled to complete by the end of 2023.
Back to July 2022