Edinburgh turns to Scandinavia for Granton Waterfront masterplan
June 29 2022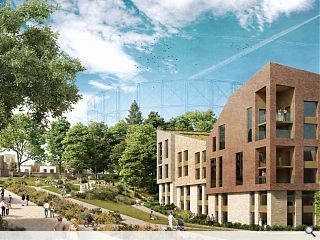 Cruden Group has appointed Smith Scott Mullan and Scandinavian practice C.F. Moller to develop detailed designs for 750 net-zero homes at Granton Waterfront after being named the preferred bidder for phase one of the £1.3bn regeneration project.
The City of Edinburgh Council is leading the regeneration effort, which will deliver a mix of homes and commercial space amidst enhanced public realm and improved transport links over the coming years.
Phase one of the plan also includes a new school and medical centre, ensuring future residents will be close at hand to essential services.
Council leader, Cammy Day, commented: "This is the largest regeneration project of its kind in Scotland and it's giving us a once-in-a-lifetime opportunity to transition towards a greener economy in our Capital city while building many of the affordable homes Edinburgh needs within 20-minute communities with shops, healthcare, cultural and leisure and education facilities all nearby."
The contract to take forward the first phase of the council's outline business case to regenerate the area is expected to be signed off in the coming weeks.
Granton Waterfront is hailed as a blueprint for the council's 20-minute neighbourhood model.
Back to June 2022