Miniature house to entice RGU campus users outdoors
June 7 2022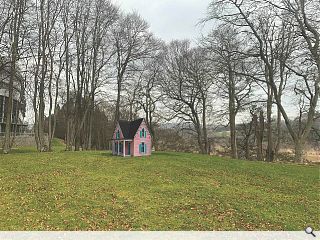 Aberdeen's Robert Gordon University (RGU) is augmenting its Garthdee Campus with the erection of a permanent folly in the form of a miniature house.
George Watt + Stewart Architects propose to set the small home in a new concrete base within the grounds of the Scott Sutherland School for Architecture & the Built Environment to encourage interaction with the landscape.
In a supporting statement the university wrote: "RGU are looking to improve their campus by encouraging students, staff and the public to further explore beyond the buildings by promoting walking activity with destination points.
"The location selected for relocation is set to be visible from the buildings to encourage interaction and to be a focal point, but it is noted the folly is not a building and does not provide accommodation."
'House in the Woods' is an existing art installation and had been positioned in the quadrangle at Marischal College but is currently languishing in storage.
Back to June 2022