Passenger services resume at Reston for the first time since 1964
June 8 2022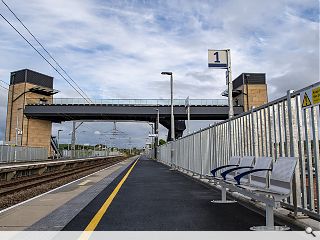 Passenger services to Reston, Berwickshire, have resumed for the first time since 1964, with the opening of a new train station.
The village has rejoined the rail network thanks to investment from the Scottish Government, providing direct services to Edinburgh and Newcastle via eight trains per day.
Designed by IDP Architects with BAM as the principal contractor the 270m long station is capable of accommodating 10-carriage trains and is fully accessible courtesy of an elevated 'ribbon bridge' and lifts.
Sam Smith, chief officer for economic development at Scottish Borders Council said, "The completion and opening of the new Reston station is a momentous occasion for communities across Berwickshire and I am delighted to welcome a train service to the village again after a gap of almost six decades.
"Easy access to services on the East coast mainline services opens up a world of opportunity for local people but also provides a platform to attract people to Berwickshire and capitalise on its fantastic leisure and tourism potential."
Reston forms part of the rollout of standardised footbridge designs by Network Rail with twin Aerolite stone-clad elevator towers providing direct access from a low-level car park sitting below a high embankment.
This prioritises access for passengers irrespective of age, disability and pregnancy as defined by the Equality Act.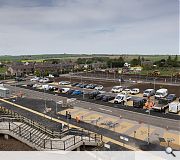 Passenger lifts offer level access from the car park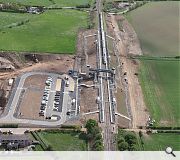 The new station is located down track from the original
Back to June 2022