Plan bee bid to transform former Scottish Widows HQ aired
May 31 2022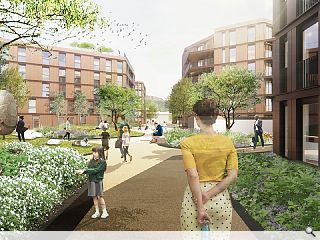 Fund manager Schroders Capital with development management specialists Corran Properties and Morgan Architects have opened a public consultation to relay plans for the former Scottish Widows headquarters at 15 Dalkeith Road, Edinburgh.
Design work is underway on proposals for the selective demolition and adaptation of the office complex to simultaneously reduce its footprint while improving its environmental performance, energy use and access to natural light.
Works would entail the removal of five of 12 hexagonal 'modules' to the rear as well as an undercroft car park and boiler house to free up land for housing. Sections of the remaining roof would also be removed to permit daylight to a new atrium and obsolete curtain walling is to be replaced.
This would open up the remainder of the site to the rear for a new residential quarter comprising 190 flats spread across five apartment blocks, extending the beehive geometry of the A listed main building along Holyrood Park Road. Employing a bronze metal cladding system to match the main building these additions would feature large external terraces and balconies set within landscaped grounds.
A deadline for public comment has been set for 22 July ahead of a planning application in August.
Back to May 2022