Landmark Edinburgh office HQ to give birth to hexagonal apartments
May 20 2022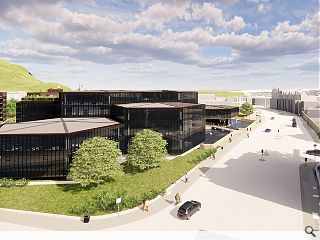 A landmark Edinburgh office headquarters famed for its interlocking hexagonal design has become the focus of a £100m plan to deliver 200 city homes.
Designed by Sir Basil Spence in 1976, the A-listed brown solar glass and York stone complex at 15 Dalkeith Road sits within a six-acre site landscaped by Dame Sylvia Crow overlooking Holyrood Park, providing sought after real estate in the heart of the city.
Schroders Capital, current custodians of the former Scottish Widows HQ, intend to remodel the estate, retaining the existing building as offices while opening up underutilised land to the north for hundreds of apartments, of which 35% will be affordable.
These will take the form of a series of six-storey apartment blocks following the hexagonal template laid down by their neighbour to the immediate south.
Nick Ball from Corran Properties said: "From the outset, the priority has been to preserve and retain as much of the building's fabric and history as possible, whilst respecting its Category A listed status and its position within the Southside Conservation Area.
"By reducing the size of the building's footprint, we can retain and improve many of the building's historical features, create a more manageable office building, whilst the new residential quarter will create a high-quality neighbourhood that will complement the surrounding area and provide much-needed new housing in a sustainable, urban location."
A drop-in consultation will be held on-site on 31 May between 14:00 and 19:30.
Back to May 2022