Student flats planned for fire-risk Sauchiehall Street hotel
May 24 2022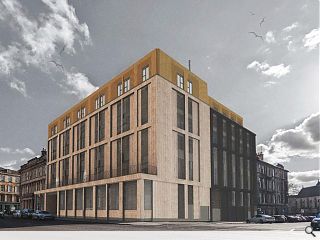 A Glasgow hotel at 923 Sauchiehall Street is set to be converted into student accommodation under plans prepared by Parklane Group and Fletcher Joseph Associates.
The former Lorne Hotel is A-listed but includes a recently reclad extension dating from the 1960s overseen by Sondh Architecture & Design. Both elements will be overhauled to provide 147 studio rooms.
The focus of investment will be to the concrete frame structure to deliver a non-combustable facade while taking the opportunity to deliver a more contextual response to Sauchiehall Street. To meet the required accommodation provision new extensions will be built to the rear as well as a setback rooftop extension to Derby Street.
In a design statement the applicant observed: "The current facade has a mixed material palette that largely fails to respond to its surroundings.
"Early investigations have highlighted that the existing facade consists of a mixture of combustible insulation and rain screen cladding. The intention is therefore to replace these façades with a new modern, compliant and non-combustible cladding."
The new design employs stone and dark grey rainscreen cladding below a gold coloured top floor to accentuate its crown with a new build rooftop extension stretching along Derby Street to the rear.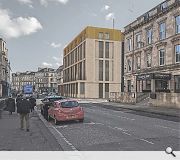 A 'tower' element will rise on the corner of Derby Street and Sauchiehall Street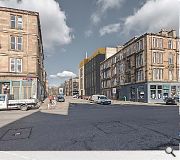 The underlying concrete structure is sound, presenting an opportunity to extend its design life
Back to May 2022