Crannog Centre up sticks to a new Lochside home
May 25 2022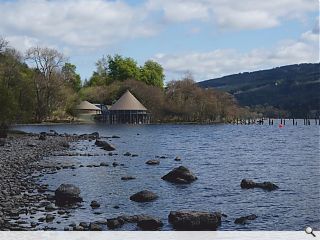 The Scottish Crannog Centre Trust (SCC) is bidding to relocate from its current home on the south shore of Loch Tay, Perthshire, to a new base on the opposite bank at Dalerb.
Having outgrown its current home and on the back of a serious fire last year the trust behind the museum have opted for a two-phase masterplan that will first reconstruct the Oakbank crannog as the star attraction of an expanded iron age village across the water.
A modular visitor centre by Oxfordshire based Green Unit will also be built, ahead of a permanent structure, together with a land based roundhouse which will serve as a performance and exhibition space.
Billed as a working museum the development will bring history to life by fostering traditional skills and crafts, principally through a woodman's yard for maintenance and training.
In a statement the trust said: "The SCC have strong links with the traditional skills and crafts people who have contributed to the design development of the Iron Age village structures with input on materials and buildability. This has involved comprehensive review of each structure and engagement with the crafts people to ensure the Iron Age village structures are authentic and archaeologically constructed."
LDN Architects and Ironside Farrar are behind the phase one plans, costed at £2.7m.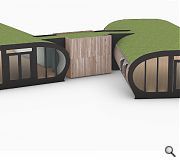 A temporary visitor centre will be erected as a stop-gap measure until funds are found for a permanent solution
Back to May 2022