New York aspirations of Finnieston flats lowered over scale and daylighting concerns
May 18 2022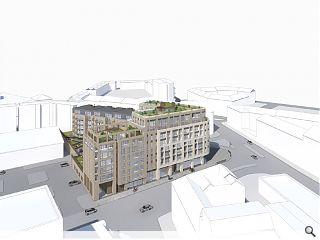 Ambassador Living and Ark Architecture & Design have prepared updated plans for a major residential-led scheme at 30 Finnieston Street, Glasgow, following discussions with planners around scale, height, daylighting and amenity.
'Significant concerns' in these areas have prompted a redesign of the scheme as originally proposed with particular concern given to the prominent corner element sweeping through to Minerva Street.
As such the one floor has been lopped off the corner element, with a commensurate reduction in the number of apartments from 153 to 132. An increase in amenity space has also been provided in a covered landscaped deck to the rear along with a roof terrace to the corner element.
In a covering note planning consultant Savills wrote: "The applicant has carefully considered GCC's position and subsequently prepared a revised scheme which primarily seeks to reduce the building scale and height. The top floor of the building over the corner element has been removed and replaced with a roof terrace for residents to utilise for amenity purposes.
"The updated proposals actively seek to mitigate a number of conflicts the previous proposal raised."
To address the daylighting concerns of neighbours the building steps back from Minerva Street and is also diminished by a single floor. Other minor amendments include an increase in height of pend access for services to permit lorries to reverse inside, negating the need for on-street parking.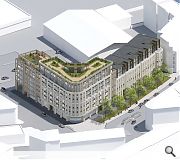 The eighth floor corner has been removed in favour of an active roof terrace
The scheme as first presented fell foul of planners over its scale, height and lack of amenity,
Back to May 2022