Second attempt made to redevelop Spiers Wharf industrial relic
May 13 2022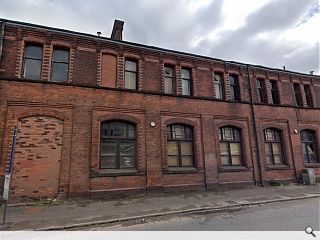 A remnant of Victorian industry at 124 Craighall Road, Glasgow, has been lined up for 60 build to rent homes in plans filed by Weiss Development Co and A10 Architect.
Supplanting withdrawn proposals for 68 apartments the latest scheme again calls for the demolition of a two-storey brick building dating from 1896 (together with a 1990s extension) which is said to be suffering from cracking and sagging.
In its place a new build apartment block is to rise, employing brick and copper cassette cladding in reference to the industrial heritage of Speirs Wharf.
In a design statement A10 Architect wrote: "A change material colour from the two end blocks to the middle one differentiates the main cores in the building and access points.
"The design of the facades facing the street, it's fenestration and common stair entrances, are clearly identifiable as residential to provide legibility. The spacing, rhythm and size of the proposed external wall openings gives the proposed development a strong identifiable character."
Backing onto a landscaped amenity space and car park with further resident amenity provided in fifth floor roof terraces.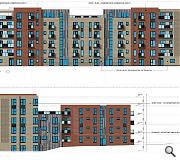 Decorative aluminium infill panels will display artwork reflecting the local area
Back to May 2022