Urban extension to deliver 7,000 homes at West Town
May 12 2022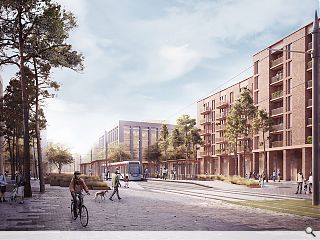 Drum Property Group has opened a consultation for West Town, a 205-acre neighbourhood to the west of Edinburgh.
Located between Ingliston park and ride and the Gogar roundabout the consultation sets out plans by 7N Architects to deliver a 'high-density mixed-use extension to the city, combining employment, commercial and community use within a 20-minute neighbourhood of 7,000 new homes.
Built around the tram line the project is billed as a 'town centre' development mixing flats, colonies and terraced housing for private rent, sale and senior living. A new primary and potential secondary school are also envisaged as is a new public park.
Coordinating the masterplan with neighouring developments at Edinburgh Airport and Crosswinds the net-zero carbon vision will serve nearby employment hubs at the Gyle and Edinburgh Park.
The consultation will be live through to 3 June ahead of a phase one planning application this autumn for the first tranche of 2,500 homes.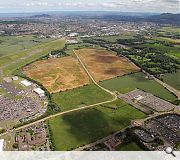 All services and amenities are promised to lie within a 'pram push' of home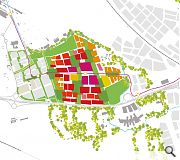 The mixed tenure development capitalises on excellent public transport connectivity
Back to May 2022