Shawlands Arcade reimagined as a high density green lung
May 11 2022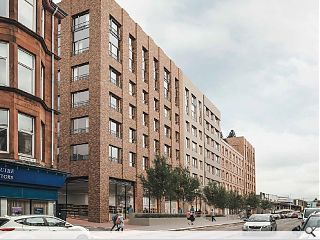 Updated plans to redevelop Shawlands Arcade have been shared at a second-stage consultation event helmed by the current owners, Clydebuilt LP.
Addressing waning footfall at the 1960's arcade, where a fifth of the units currently lie empty, the £150m proposals call for a high density housing above ground floor commercial units.
This blank slate approach will permit the pavement along Kilmarnock Road to double in width by removing a high level walkway, providing breathing room for a range of public realm enhancements with around half of the total site area (12,000sq/m) earmarked as green space.
The landscape strategy will drive a new avenue off Kilmarnock Road into the heart of the site, providing access to a range of interior spaces suitable for gatherings, play and small events. Varied facade treatments and massing will break down the apparent mass of the new structure with corner elements given strong vertical emphasis.
Outlining the push for a 'green heart' the consultation documents state: "The civic centre, activated by ground floor retail uses to each side, is easy to walk through and features planted areas with enclosed pockets of public seating. It culminates with a generous staircase which transitions the existing level change. The stair is purposefully large to make this route inviting and breaks down into seating at its edges, creating a place to pause and offers gathering space for events.
"The stair will have an associated urban platform lift to make this level change accessible to all users."
A phased programme of works will see half of the arcade remain operational while the other portion is developed, with phase 1 constituting 332 apartments with 30 parking spaces.
A planning application by Haus Collective is expected by the autumn, permitting a start on site by summer 2023.
A phased programme of demolition will permit continuity for remaining traders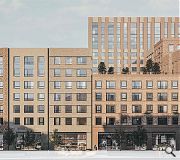 Horizontally framed facades sit between taller vertical elements at nodal corners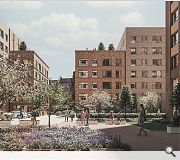 The proportion of public open space will jump from 17% to 50%
Back to May 2022