Anniesland gap-site set for 136 build to rent flats
May 3 2022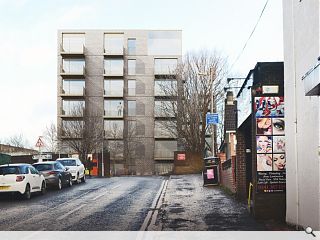 Calmont Group has opened a public consultation for the delivery of 136 build to rent apartments on brownfield land at 21 Herschell Street, Anniesland, superceding a smaller scale bid to build 48 flats on the same site.
Amenity and co-working spaces at ground and first-floor levels are to be complemented by roof terraces and landscaped in plans drafted by Elder & Cannon Architects in support of a proposal of application notice.
Sharing a boundary with the northern platform of Anniesland train station off Great Western Road the scheme comprises double banked blocks of up to seven storeys of predominantly one-bedroom flats; including larger two-bed corner flats and a scattering of studios. Each building will be arranged around a single controlled entrance hall doubling as a residents social lounge.
In a statement the applicant observed: " A strong repetition and rhythm of well proportioned, tall and large openings contribute to an elevational control and language of significance and generosity at the same time as being modest and restrained. The composition is further articulated by the play of surface material, recess and projection and of different openings, detailing, balconies and frame elements to deliver a building of appropriate quality, identity and stature.
"All upper floor flats are given generous cantilevered balconies, providing private threshold and amenity, and affording views and aspect for all residents while also setting up a repeating pattern of projecting balconies to enliven and enrich the brick facades."
A small amount of parking is provided beneath a cantilevered balcony to the south block gable with the remainder of the site given over to residents' gardens opening out from ground-floor common areas. Additional social spaces are provided in fully glazed top floor corner enclosures. The materials specification includes facing brick accented by bronze aluminium cladding and glass.
An interactive presentation of the plans will take place on 11 May between 15:00 and 19:00.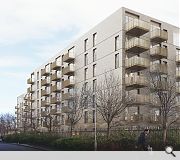 An application for full planning permission is anticipated by the summer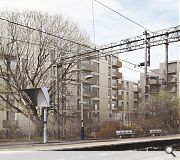 Excellent public transport connectivity lends itself to high density residential
Back to May 2022