Green roof apartments open out to Leith Links
April 29 2022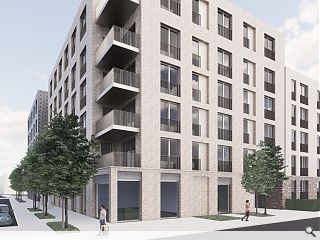 Cruden Homes with 7N Architects have presented initial proposals to redevelop low-rise industrial buildings at 124 Salamander Street and 1-3 Salamander Yards, Leith.
Early concepts envisage building 99 homes and 2 commercial units as part of a developing mixed-use neighbourhood for the fast growing area, in line with the adjacent Ropeworks masterplan.
Set back from Salamander Street to permit more generous paving the single build will be subdivided by varying hues of brick. Vehicle access and parking will be segregated to a dedicated space to the immediate east with pend and open access to an interior courtyard restricted to pedestrians. Green roofs and a planted frontage and amenity space will improve amenity and biodiversity.
"Our approach is to re-establish the urban block and to create a quality building frontage to Salamander Street," wrote 7N in a consultation statement. "A sheltered courtyard is additionally formed to take full advantage of the southern aspect to Leith Links."
A minimum of 25% affordable housing will be offered in line with city standards and new pedestrian and cycle routes laid to connect with Leith Links. A planning submission is likely in June, preceding a start on site by early 2023.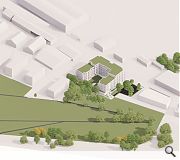 An open courtyard maximises views and access to Leith Links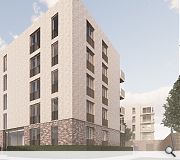 Mixed brick will break-up the apparent massing
Back to April 2022