Watt Brothers department store lined up for hotel conversion
April 25 2022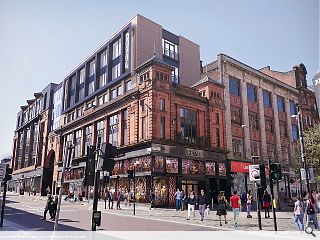 A disused department store in Glasgow has been lined up for a hotel makeover while retaining an element of retail use. Both north and south wings of the former Watt Brothers Building on Sauchiehall Street are subject to the partial change of use, with a rooftop extension connecting both elements above Sauchiehall Lane.
Applicant Silverfern proposes to retain the basement, ground and mezzanine floors of the north block fronting Sachiehall and Hope Street for commercial use. The south block meanwhile will house front of house services at street level while the upper floors of both elements are turned over to hotel use.
Planning consent is being sought in advance of an operator signing up with Silferfern explaining: "Achieving a detailed planning consent de-risks the project as far as a potential end-user and makes the decision to commit purely financial.
"The retail use to Sauchiehall Street, whilst important from a use and streetscape point of view, is a secondary concern. Filling retail space in city centres is challenging at present, although it is hoped thatthis will become easier as we enter the post-Covid era. What is certain is that the smaller retail space will be far more attractive to the market than the current premises."
To boost the number of bedrooms possible double and triple-height extensions are planned, bringing the massing of both elements into alignment. Clad in polished granite and bronze metal rainscreen with bronze fritted glass the extensions will sit on top of the remodelled B-listed properties below, including the infill of a connecting link bridge.
This is justified on the grounds that a minimum number of bedrooms are needed to cover the costs of altering and extending the listed building.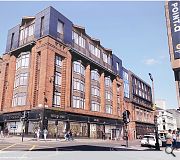 The roofscape is conceived as two distinct extensions, linked by a central element and common materials
Back to April 2022