Affordable homes prioritised at Hamilton Green
April 20 2022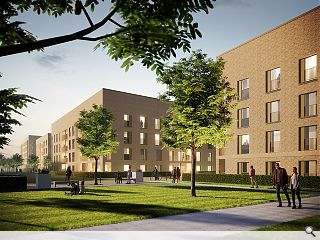 South Lanarkshire Council has been presented with revised plans for a phased residential-led regeneration of the former University of the West of Scotland campus in Hamilton.
Hamilton Green is being led by First Endeavour in partnership with the university to deliver a hotel, 286 homes, a care home and an energy centre.
Updated documents prepared by Halliday Fraser Munro illustrate how the proportion of affordable housing at the former campus could be upped from 25 to 46.5%, predominantly in the form of high-density apartments with a small number of houses also provided.
Summarising their plans the architects wrote: "Materials were carefully considered to create a modern and consistent architectural character to give Hamilton West a better sense of identity. Local materials are used where possible, in line with the low & zero carbon strategy."
The 7.5-hectare site stands to the south of the civic centre and will host a linear central civic space running north to south as the 'backbone' of gridded development to either side and connecting onward to the town centre.
New routes and landscaping will be introduced to improve accessibility and integrate with Almada Street, Craig Street, Bothwell Road and Beckford Street which border the site.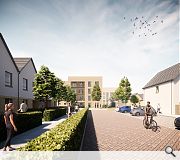 Connectivity improvements will provide direct access to Hamilton West station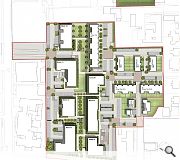 The introverted campus is to be opened up by an active travel corridor
Back to April 2022