Aberdeen FC share beachfront stadium vision
April 19 2022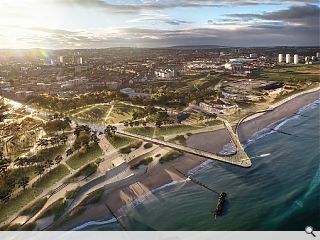 Aberdeen Football Club has opened a consultation into plans to relocate to a new waterfront stadium designed by AFL Architects.
The club had previously planned a move to Kingsford but now favours a more central locale to aid the regeneration of the city centre.
A beachfront site has been made available by Aberdeen City Council to facilitate the switch as part of a broader city centre masterplan to connect the beach to the city centre by way of a new boulevard.
Working in partnership with the council the club propose to build a community sports complex incorporating an ice rink and leisure centre as part of their plans to broaden the appeal of the hub beyond the club's core fan base.
An outline business case for the stadium will go before the council in June.
Back to April 2022