Urban Realm 49: Can culture & heritage plug the retail gap?
April 13 2022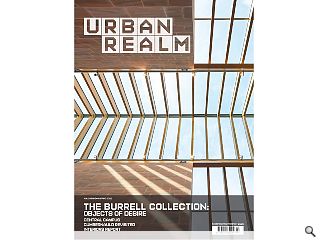 The theme of re-emergence dominates the spring edition of Urban Realm, as we welcome green shoots of recovery, starting with Glasgow's Burrell Collection which has just emerged from a five-year hibernation. Its transformation has come at the perfect time to reap the dividends of a resurgent leisure economy but has it been worth the wait?
We continue our journey west to Paisley via Sauchiehall Street to see how the travails of retail are forcing a reappraisal of how our streets function. Is culture, heritage and entertainment alone enough to plug the retail gap?
Elsewhere landscape steals the limelight at the University of Stirling's Central Campus but a new entrance pavilion and improved access show how its true success lies in establishing a new relationship with its setting. We also pay a return visit to Carbuncle favourite Cumbernauld in the wake of plans to demolish the central 'megastructure'. A decision which may yet be lamented.
It's been a breakneck start to the year as we all strive to make up for lost ground but this reassures us that whatever challenges lie ahead we have the wherewithal to meet them.
You can pick up your copy of our spring issue by subscribing via our handy online form.
Back to April 2022