Mixed-use Madras College plans fleshed out
April 6 2022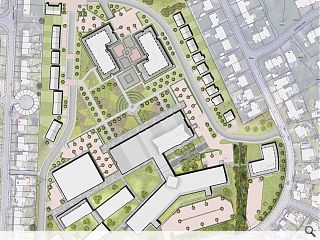 Halliday Fraser Munro has filed an application for planning in principle on behalf of the Scotsman Group to convert the B-listed Madras College campus in St Andrews into student accommodation, supported by new build residential and commercial.
The late sixties Kilrymont Road building, which consists of a pagoda-roofed assembly and dining hall connected to a V-plan classroom block finished in black enamel panels, glass rubble stonework, is to be retained with its playing fields given over to new build development.
Early concepts propose retaining a central green space in front of the college, which is to be developed as 280 student beds, shops and a deli/ restaurant. A further 60 two-bedroom flats are to be built alongside.
Feature apartment blocks served by underground parking will frame this public space to the north with low-rise housing pushed to the perimeter.
Delivered by Scotia Homes the parallel portion of the build comprises a further 100 homes to be delivered in tandem.
In a design statement, Halliday Fraser Munro wrote: "Feature blocks will be used in the centre of the site to frame the central green space setting to the north of the college buildings and potentially create further, smaller pockets of public open spaces.
"Simple building geometries are proposed to ensure that the existing Madras College Buildings remain as the key landmarks in the local area and feature gables and elevations are maintained."
A separate sports hall in the same style could be demolished if re-use is found to be 'problematic'.
Back to April 2022