Galashiels to benefit from Borders school replacement programme
March 31 2022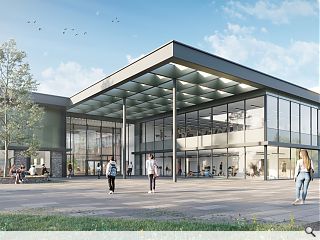 Scottish Borders Council has filed plans for a replacement community campus for Galashiels Academy, partially encroaching on the town's Scott Park.
Drawing education and community facilities under one roof the new campus will rise alongside the old offering modern open plan learning environments and flexible multi-use spaces.
Arranged around a central spine where socialising is encouraged the school will include a swimming pool and sports hall off a shared main entrance.
Externally a 100m running track and sports pitches, the school will be complemented by the expansion and improvement of Scott Park to provide additional green space and improved access to woodland on Gala Hill and the Gala Policies landscaped grounds.
Led by Hub South East Scotland, Morrison Construction and jmarchitects works are expected to commence on-site in the summer of 2023 for completion in 2025. The current Galashiels Academy will be demolished thereafter.
The campus follows delivery of Langlee Primary in 2018.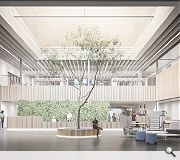 Connectivity with Scott Park is crucial to the success of the campus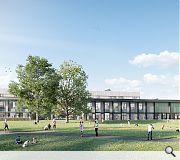 The versatile accommodation permits use by the general public
Back to March 2022