Tower power
October 24 2008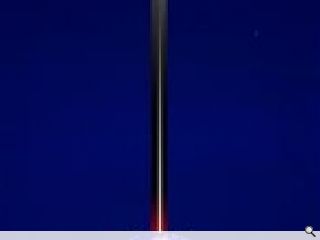 Marks Barfield's futuristic i-360 tower for Brighton & Hove Council has commenced construction at Brighton's ruined West Pier. The 158m high tower will be composed of 17 steel drums to form the spine of the slender tower. However with Britain now mired in recession the opening date has slipped from the planned 2010 into 2011.
Central to the towers design is a dynamic viewing platform which can transport up to 150 people in a gentle ride to the summit. The futuristic design hides a low tech solution which utilises a system of cables to drive the viewing gondola in opposition to gravity.
Glasgow's do architecture have been commissioned alongside Marks to craft a suitably bewitching light ensemble to ensnare passing trade in a theatrical display of playful illumination and it is as day turns to night that the structure truly comes alive. A powerful white light bathes the pinnacle, burning through to a vivid red in a pulse of light choreographed with human breath while a halo tracery shadows the kinetic trajectory of passenger pod.
Historic esplanade buildings will be restored to past splendour with animated light pointing the way to sea and animating the ghostly footprint of the former West Pier.
In these energy conscious times all lights will point downward to prevent unnecessary pollution of the night sky and energy consumption will be mitigated by utilising very low energy LED's powered by twin wind turbines embedded within the tower body.
Back to October 2008