Hope for garden gateway
October 24 2008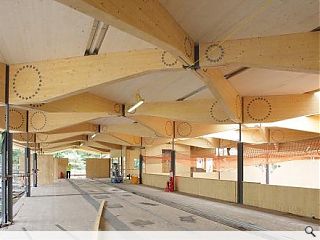 Construction of the John Hope Gateway Visitor Centre at the Royal Botanic Garden Edinburgh, designed by Edward Cullinan architects and engineering consultancy Buro Happold, is underway.
By early 2009 the two storey timber and steel building will provide permanent and temporary exhibition spaces, a real life science lab, a biodiversity garden, a shop, an outdoor sales area covered by a fabric canopy, a café and restaurant.
Buro Happold are conscious of their sensitive surrounds and have thus employed a strong sustainability and biodiversity ethos in their design of structural, façade and fire systems.
Proving that sustainability isn't all hot air, heating will be provided by a biomass boiler, partly fuelled by plant waste from the gardens. A roof mounted helical wind turbine will provide a proportion of electrical power.
Softwood timber will feature prominently providing both structural stability and a set piece helical stair.
Images provided by Buro Happold/Alan McAteer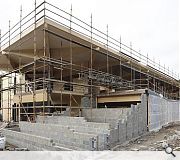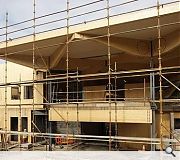 Back to October 2008