Primary concern for Linthouse
October 24 2008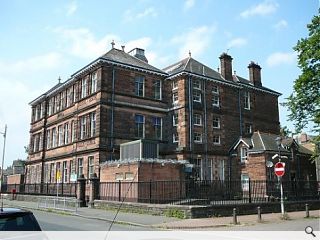 News that Elderpark Primary School is to be demolished subsequent to its closure in January 2010 has been met by disbelief at a Linthouse residents meeting. Drumoyne Community Council Secretary Paul Phin was particularly incredulous having been informed by Councillor Stephen Dornan in July that the school was perfectly safe and wouldn't be demolished.
The school, designed by Bruce and Hay in 1899, is to make way for a National Epilepsy Centre, despite competing proposals from Linthouse Housing Association to transform the historic structure into residential flats.
The property will be sold for £265,000 but the reclaimed stone has been valued at £200,000 alone. The new build will comprise a single storey pavilion structure costed at £5 million, designed by Anderson Bell Christie. Only the existing boundary railings will be retained.
Andy Young, Head of Property Management and Development at Glasgow City Council (GCC) confirmed saying: "The National Epilepsy Centre is a project which the Council wishes to support. We had been helping to find an appropriate site for the facility for some time. Elderpark is an ideal location as one of the principal search criteria was proximity to the Southern General. We were aware of the Linthouse H.A. interest but in this instance the Quarriers proposal was given a higher priority."
Community councillor Sarah Findlay vowed to fight on, declaring: "Come hell or highwater the community are determined to save (Elderpark Primary) for the enjoyment of future generations. The GCC and Quarriers may not rate the building, we certainly do...and we are APPALLED at the comments of DRS's Any Young admitting that the council apparently have no interest in the community view on what is proposed."
Locals have identified 29 developable sites including 14 acres of land adjacent to Thales and the Southern General which has been marketed for sale for two months by King Sturge, but this has been zoned for industrial use.
There is consternation locally that such rigidity hampers efforts to rebuild a population base, particularly with the neighbouring Southern General site bringing in 3,000 new jobs and 2,000 people to the area. Similar land on the north bank has been re-zoned for residential use.
Attempts are being made to have the school category C listed, the nascent conservation area established for the Govan Road corridor currently falls 12 yards short of the school gates.
David Neilson a former Progressive Labour councillor for the ward from 1966 to 1972 said: "I want to know why these suits are making these decisions, who runs this city?"
Linthouse Community Council intend to fight the move and are looking to form a city wide pressure group by linking up with Go Ape and Hillhead Primary School protestors. Support has been solicited and obtained from the SNP's Govan Councillor, Nicola Sturgeon.
Back to October 2008