Gas holder park to round off Granton Waterfront
March 28 2022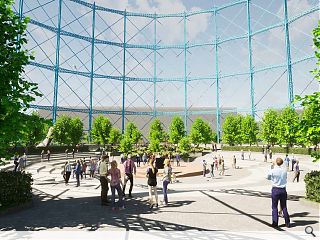 A B-listed gasholder at Granton Waterfront is to form the centrepiece of a new public park in the first phase of a broader 10-15 year masterplan to deliver around 3,500 homes in the immediate neighbourhood.
Standing 72m wide and 42m tall the steel lattice construction dates from 1903 and is being brought back to life via funding from the UK Government's Levelling Up Fund to stand as a new 'Heart of Granton'.
As phase one of the waterfront project, the park is pencilled in for delivery between 2024 and 2028 to connect Waterfront Broadway and the coastal park. Led by McLaughlin & Harvey and Tetra Tech the chosen approach will transform the interior footprint into an amphitheatre and peripheral walkway suitable for performances and events.
Enclosed on three sides by new apartment blocks the gasholder will remain open on its northern flank. A lawn 'ring' will encircle the gasholder to improve its setting and provide recreation space.
In a design statement, the applicants wrote: "The stepped ring feature located around the edge of the interior gasholder space has been designed as a stepped seating and planting feature which reflects the cup and skirt detail historically used to seal the gasholder's skirting plates as they moved up and down.
"The amphitheatre space reflects the layout of the 'dumpling' located within the interior tank and its sloped / raking interior represents an inversion of this feature; the interior space is divided into six equal sectors or 'sextants' to reflect the design of the six-spoked guide wheels which supported the operating gasholder and the amphitheatre stage has been designed as the centre of the guide wheel."
To facilitate access sections of structural cross-bracing at ground level will be removed and replaced by horizontal supporting beams, establishing clear points of entrance to the interior. Perforated steel plates will also be affixed to discourage attempts to scale the cross brace structure.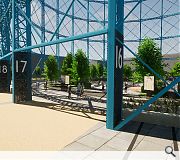 Small sections of cross bracing will have to be removed to provide access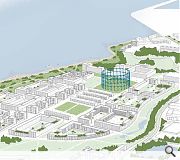 The gasholder will sit at the heart of a neighbourhood of 3,500 homes
Back to March 2022