Dundee FC progress Camperdown stadium plans
March 25 2022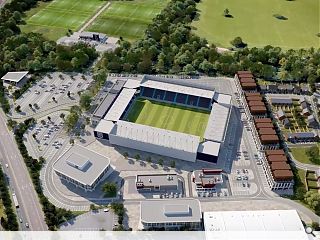 Dundee Football Club has revealed more detail on its plans to develop a new stadium at Camperdown Park following the appointment of a consultant team.
The 15,000 capacity multi-purpose stadium would include a conference venue for over 850 delegates and 25,000 capacity leisure venue alongside a 120-bedroom hotel, leisure facilities, a crematorium and 70 apartments.
First mooted in 2017 the plans by LJR+H Architects would see the club vacate their historic ground at Dens Park in favour of a future proof home that would include state of the art training facilities.
Managing director John Nelms said: "We have engaged the project consultants, they will now engage with City Council. I'll be engaging with the leaders of the community. It's time to get this project off the ground and get something for Dundee that can be a jewel and bring excitement and energy to the city."
In a bullish statement, Nelms said that 'it is time' for the project but gave no detailed timeline for delivery.
Back to March 2022