Heritage body sets out options to stave off Ayr Station Hotel demolition
March 22 2022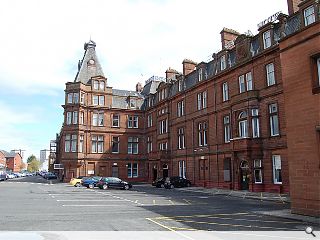 A campaign group promoting the viable re-use of endangered historic buildings has stepped up to the plate to help rescue Ayr Station Hotel.
Save Britain's Heritage has published 'fundable and sustainable' proposals that include part-conversion of the listed building into a destination pub and associated conference space and wedding venue, with a hotel and hostel rooms on the upper floors. An alternative approach would see the town centre gateway transformed into an enterprise hub housing artists' studios and exhibition space.
Detailed plans based take account of South Ayrshire Council's estimated £10m repair bill for structural work alone. A further £8.8m would then have to be found for the hotel conversion or £8.47m to cover the fit-out costs for an enterprise hub.
In an attempt to break the logjam Save argues that lottery funding of up to £5m could jumpstart renovations in a detailed report given to Network Rail and Transport Scotland, which own part of the north wing. This would permit new passenger facilities to be included on the ground floor with railway offices above.
In a statement, Alistair Scott, architect and consultant for Smith Scott Mullan Associates told Urban Realm: "Of the many Scottish buildings worthy of protection, Ayr's iconic Station Hotel is surely one of the most important. Not only as a prime example of late 19th-century railway architecture but as the centrepiece of the town's main square and an example that sustainability is more than just fine words.
"Since its closure as a Hotel in 2013, it has been under threat of demolition and various organisations have investigated its future. Most recently Save Britain's Heritage, supported by a design team of Smith Scott Mullan Associates and Hardies, has produced a comprehensive prospectus on a range of viable options to save and revitalise the building. This would combine community and commercial uses, which would support the Station as a working transport hub.
"Achieving this is a major challenge, but given political and financial support it would showcase Scotland's role in addressing the placemaking and environmental issues which are now underpinning our government policy. Watch this space………."
Previous attempts to rescue the ailing B-listed French Renaissance style landmark have fallen through due to the significant costs incurred by renovating the neglected building, resulting in an extended stalemate as owners baulk at an estimated £25m repair bill.
The majority of the building was purchased by businessman Mr Eng Huat Ung in 2013 to convert into student apartments.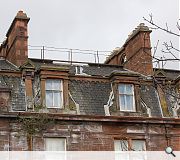 Since its closure in 2011 the condition of the hotel has deteriorated further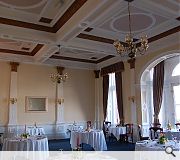 The report points out that the most sustainable buildings are those which have already been built. Photography by SSM.
Back to March 2022