Boomerang plan Perth High School gets the nod from councillors
March 18 2022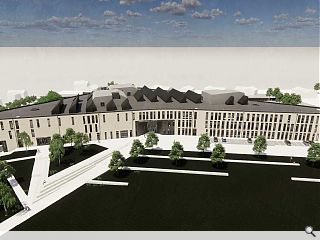 Perth & Kinross councillors have lent their full support to a £68.7m Passivhaus standard replacement for Perth High School.
The wedge plan campus will rise within the grounds of the current school off Oakbank Road, permitting continuity of education through the construction period.
Built by Robertson Construction to designs by Norr and Rankin Fraser the school is centred on a multi-purpose auditorium from which all other spaces radiate.
In a planning statement, Norr wrote: "The broadly triangular (or boomerang) form of the project provides a compact, contextually appropriate arrangement with a floor plan conducive to highly effective educational connectivity, as well as an unusual external visual expression suitable for a contemporary learning environment."
The original 1971 school will be demolished once construction is complete in summer 2024.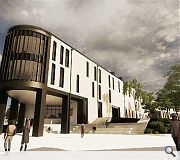 Glazed curved corners are intended to lend the school a civic presence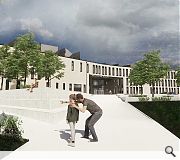 The front facade folds to draw people towards a central main entrance
Back to March 2022