Tritax follow build and they will come Maxim
October 24 2008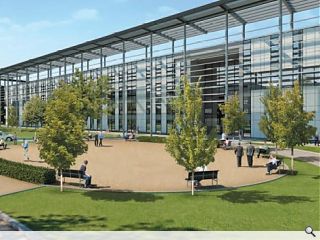 When the Chunghwa Picture Tubes factory at Eurocentral went down the tubes the Lanarkshire site did not paint a pretty picture. Fortunately the £330 million Maxim Business Park, designed by Keppie for Tritax Securities, has risen phoenix like on the gargantuan site.
Scheduled to top out today with full occupancy pencilled for 2010, the estate will provide 10 office buildings with 756,000sq/ft of cumulative space.
Uniquely the entire estate is being built in one fell swoop to take advantage of economies of scale and ensure zero disruption for early tenants.
First Minister Alex Salmond will celebrate the occasion by signing the final steel beam to be hoisted into place, the girder already bears the signatures of 490 construction staff.
It is hoped that the privately funded park will attract both British and international firms.
Back to October 2008