Contractor appointed for DC Thomson makeover
April 25 2013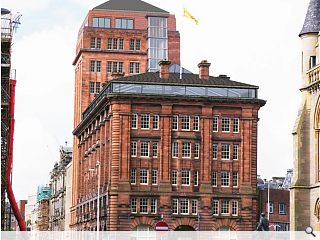 Publishing group DC Thomson has appointed Muirfield Contracts to undertake the refurbishment of their Courier Buildings HQ, Dundee.
Drawn by the Lindsay Gray Alan Beaton Partnership
the plans
entail full internal renovation of the property, including new roofing, and are expected to take 15 months to complete.
The work will enhance energy efficiency in the building by improving insulation, introducing a rainwater harvesting system and installing photovoltaic panels on the roof.
A landmark red sandstone tower built, unusually, in the 1960's, will be topped with a new rooftop boardroom offering uninterrupted panoramas of the city.
Barry Strain, group head of estates for DC Thomson, said, "They (Muirfield) are also a Dundee-based company and will use locally-based subcontractors for the work undertaken at our Meadowside site.
"We look forward to working with Muirfield and are delighted that we've found the quality in a local company."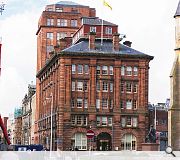 These before and after shots illustrate the subtle changes to be wrought
Back to April 2013