Appeal lodged to overturn refusal for 'unacceptable' Wishaw homes
March 1 2022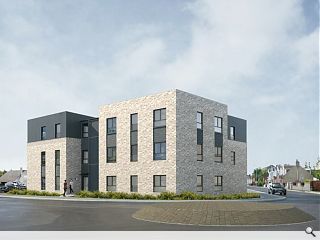 The JR Group is appealing against a second planning refusal to build a block of 12 affordable apartments at 451 Main Street, Wishaw, asserting that all initial objections had been addressed.
The construction firm has come out fighting after its plans were thwarted again despite moves by Mast Architects to reduce the massing of the block following a previous refusal. North Lanarkshire Council refused planning consent in December last year because the scheme represented an 'overdevelopment' of the site.
At the time planning and place manager Lorna Bowden wrote: "Due to its size the building would appear incongruous within the streetscape and would detract from the appearance of the area and the setting of nearby listed buildings.
"The upper flats would also cause overlooking of neighbouring gardens, while the proposed parking layout and narrowing of the public footway are also considered to be unacceptable."
The JR Group assert that their plans comply with the local development plan and carry the support of Trust Housing Association, prompting an appeal for the decision to be reconsidered for a third time.
Gary McGregor, managing director for The JR Group, expressed 'surprise and disappointment' at the refusal, saying: "Having held detailed discussions and taken on board all feedback, we were more than satisfied that all the previous objections were addressed – including changes in design to reduce the height of the block and remain sympathetic to the surrounding landscape, including the existing block of flats opposite the site.
"If the site isn't utilised to provide housing, there's a real risk it could go undeveloped and remain derelict – as well as being a magnet for anti-social behaviour – which totally goes against the local authority's strategic ambitions around redevelopment of brownfield sites."
A final decision on the latest appeal is not expected for several months.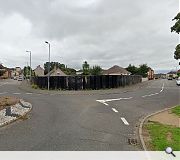 Planners considered that the development would appear 'incongruous within the streetscape'
Back to March 2022