Giant blackboard vision for University of Glasgow Math building
January 21 2022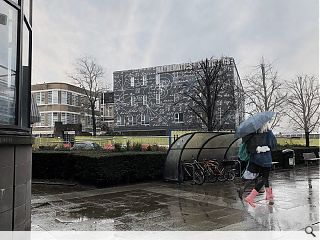 The University of Glasgow has moved to extend the presence of a temporary modular structure housing the displaced department of mathematics and statistics for a further five years beyond the approved cut off of February 2022.
A number of architectural modifications are planned to the existing structure in recognition of its continued role, centred on the incorporation of white 'chalk' text on dark cladding panels to evoke a giant blackboard. This overlaid text repurposes various computational symbols as floor decals and wall murals applied to laser cut aluminium panels.
In a statement jmarchitects wrote: "Alterations to the Maths Modular building laid out in this report aim to accommodate additional staff and students, as per the agreed growth strategy, improving workflow and accommodation for academic/student support services as well as improving the quality of spaces for the users of the building through carefully considered architectural interventions.
"Although we acknowledge the site as a temporary structure. The project presents a clear opportunity to improve the building and its place in the surrounding context."
The temporary school, which sits next to the A-listed Joseph Black building, forms part of the Western Campus master plan which will deliver permanent long-term accommodation.
A temporary public realm strategy for the interim period is also being drawn up by 7N and Aecom which includes planting and trees which can be moved later on.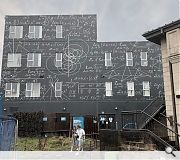 Public realm improvements are also in the works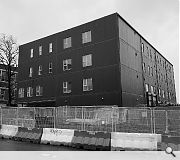 The modular building is to be made semi-permanent
Back to January 2022