Drawing together with RMJM
October 22 2008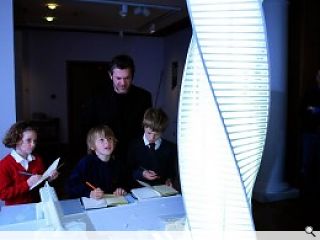 RMJM are encouraging more people to get drawing as part of a nationwide exhibition starting this Autumn at Edinburgh's City Art Centre. Quick on the Draw illustrates how people in many walks of life use drawing as a vital part of their work and aims to encourage both children and adults to pick up a pencil and get creative.
The exhibition will showcase a variety of drawings and sketches by artists and professionals who use drawing as an essential tool in their work, including designs for an acoustic guitar, firework displays, tattoos and palaeontology sketches used to recreate the appearance of long lost animals and plants.
School pupils from Edinburgh's Parsons Green Primary School, RMJM director Paul Rodgers and City of Edinburgh Council Culture Leader, Deirdre Brock, attended the launch of the exhibition, which features a case study of RMJM's City Palace Tower in Moscow (pictured) to illustrate how architects use drawing as part of the creative process involved in designing buildings. RMJM is also sponsoring an Activity Studio that allows children and adults to explore different forms of drawing through a range of fun interactive individual and group activities.
RMJM Director, Paul Rodgers, said: "Humans have been using drawing as a form of visual expression for centuries. It's important for learning and stimulating creativity in all walks of life, whether at school or in business. As an architect it's a fundamental skill and we hope that by supporting the Quick on the Draw exhibition we can encourage more young people to draw, be creative and perhaps even consider a career in architecture in the future."
The exhibition coincides with the UK wide Campaign for Drawing and takes place at Edinburgh's City Art Centre from Saturday, October the 11th 2008 until Sunday, January the 4th 2009. Quick on the Draw will also be moving on to the Harley Gallery in Worksop from January the 17th until March the 29th 2009 and then on to Croydon Clocktower from June the 26th to September the 19th 2009.
Photographs provided courtesy Sean Bell.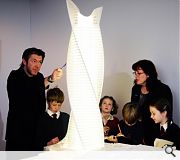 Back to October 2008