BDP ring in the gongs
October 22 2008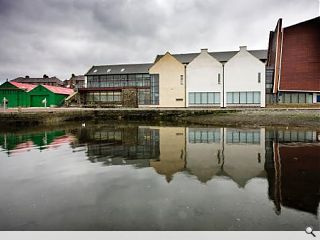 BDP are reveling in twin delight after their Shetland Museum and Archive won both the Public and Commercial Access Category Award and the Gold Award as Best-of-the-Best at the Wood Awards Ceremony. This success follows a commendation for
Kelvingrove
in the Conservation Category of the RICS International Awards.
Built for the Shetland Amenity Trust, the museum provides an important cultural hub and visitor attraction for the Shetland islands. The 3,500 m² building, which utilises old boatsheds, provides spacious accommodation for the museum which had outgrown previous premises.
The central core of the Museum contains exhibition spaces at ground and first floor levels overlooking the B listed Hays Dock, whilst on the upper levels and at the heart of the building lie the Archive repository and associated search room facilities. To the east at ground floor level the building houses a 120 seat lecture theatre with full cinematic projection capabilities, whilst at first floor level there is a 60 seat restaurant with panoramic sea views. To the west is the triple height volume of the Boat Hall which provides the accommodation for the suspension of Shetland's historic boat display.
The building in the main echoes the 'Lodberries', the traditional early Shetland buildings, with gable ends interfacing closely with the sea, and is constructed of traditional materials comprising harled masonry walls, pitched slate roofs, and timber windows.
Contrasting with the traditional forms, the building is terminated with the timber clad Boat Hall, whose walls have been conceived as large abstract sails, separated by tall, narrow vertical glazing strips, echoing in colour and form the sails of the Herring drifters which in their hundred, wintered in Hays Dock in the last century.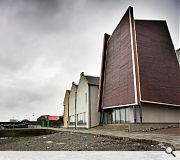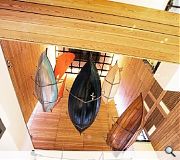 Back to October 2008