Ardgowan 'cathedral to whisky' modelled on a Nordic long hall
January 18 2022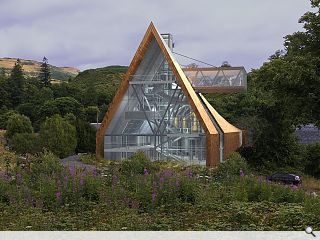 Ardgowan Distillery has released its latest plans for a striking production facility and visitor centre overlooking the Firth of Clyde.
Construction will begin this year on the landmark composite clad structure, which has been likened to a modern Nordic long hall and incorporates a glazed 'sky platform' for elevated views.
Principal investor Roland Grain, who has committed £8.4m to the venture, said: "My passion for whisky began as a teenager in Austria when I began to collect Scotch whisky and my wish is for this project to create the highest possible quality whisky and a lasting connection to the community in Inverclyde.
"Central to this is our innovative building – designed by leading Austrian architects Spitzbart and Partners. This very modern Nordic long hall is pointing skyward, symbolising resurrection and our rise from the ashes of the former Ardgowan Distillery, which burned down in the Greenock Blitz in May 1941, and also our ambition to become one of the top whiskies in the world.
"I hope it will stand out as a 'cathedral to whisky' and put this corner of Inverclyde firmly on the tourist map."
The carbon-negative timber and steel structure has already been submitted for consideration by Inverclyde Council and will be built by specialist distillery engineers Briggs of Burton for completion by 2023.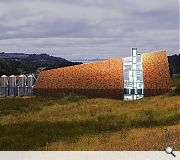 The elongated distillery is positioned to maximise views of the Firth of Clyde
Back to January 2022