Prestwick Airport expansion to deliver a horizontal launch spaceport
January 17 2022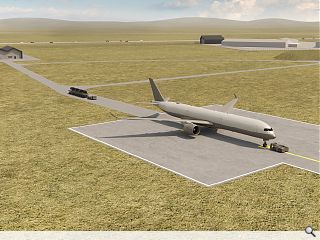 South Ayrshire Council has prepared a proposal of application notice (POAN) to expand Prestwick Airport to permit its use as a horizontal launch spaceport.
81.5 hectares of land at East Sanquhar Farm will accommodate a new taxiway, launch facility and services necessary for an aircraft to lift a rocket above the Atlantic Ocean to deploy small satellites into orbit. Infrastructure will also be put in place to conduct microgravity and hypersonic flight services.
Joining more traditional vertical launch infrastructure at Shetland and Sutherland the Prestwick hub is being designed by Norr after £80m of funding was secured by the Ayrshire Growth Deal.
Peter Henderson, leader of South Ayrshire Council, said: "Prestwick Spaceport has achieved another milestone by filing a POAN for its development. This follows on from Prestwick Spaceport securing a launch provider, Astraius, in September last year."
Public consultation opens on 23 February with the hope that the first rocket could be launched by autumn 2023.
Back to January 2022