Back to the future for Dubai
October 21 2008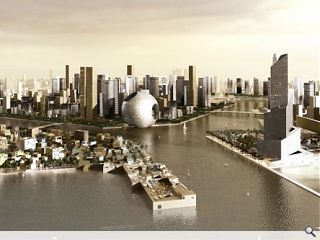 Global architectural firm RMJM have been selected to develop Madinat Al Soor, part of Waterfront City.
Jointly masterplanned by Nakheel and the Rotterdam-based Office of Metropolitan Architecture (OMA) this forms the centerpiece of Nakheel's Waterfront project in Jebel Ali. Waterfront aims to transform 1.4 billion square feet of empty desert and sea into an international community for an estimated population of 1.5 million people. Waterfront City is composed of Madinat Al Soor, the Island, the Boulevard, the Resort and the Marina, will be twice the size of Hong Kong island.
Located at the harbor entrance to Waterfront City, Madinat Al Soor, which means literally "City of the Wall," will include residences, souks (markets), hotels, as well as civic and cultural facilities. In contrast to many of the developments being built in Dubai, Madinat Al Soor derives its inspiration from the richly textured, Arabic settlements, with their narrow and intimate streets, compact, low-rise buildings and courtyards, canal systems and waterfront spaces, and emphasis on environmental sustainability.
The name "Al Soor" or "The Wall," originates from the development's most prominent structure – a large, inhabited wall element on the western tip of the site. The site is surrounded by water on three sides - the north side has a beach and the south, a quay. The building clusters and irregular street patterns will integrate the wall with other key spaces in the town. The distribution of the program allows for the creation of mixed-use neighborhoods, each with a unique character, through the strategic position of retail and public routes along the canal.
While prototypical Arabic town planning principles inform the project, individual buildings and spaces will reflect a modern understanding of the Arabic architectural vernacular and will conform to contemporary building methods. Indigenous sustainable design techniques will be integrated, with an emphasis on passive solar shading and siting to achieve a natural cooling effect. The site's position is ideally situated to capture the cooling breezes of the local northwesterly prevailing wind, and the combination of solar shading, light ventilated roof systems, and landscape design could result in energy savings of as much as 30 to 40 percent.
Back to October 2008