Kintore Town House reimagined as a community hub
December 17 2021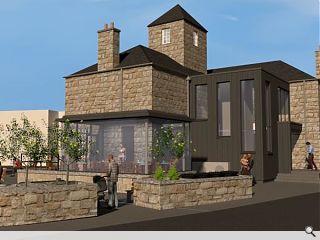 Proposals to alter and extend Kintore Town House to provide a community facility have been made to Aberdeenshire Council by Lippe Architects & Planners.
The A-listed council offices are now surplus to requirements, freeing up the historic building to serve a new role as a gathering point off the village square. Plans call for the formation of a cafe and upstairs function suite, accessible from a new zinc and glass flat-roofed side extension.
Fabric repairs to the main building include the repair/replacement of the slate roof, the installation of new single glazed windows where necessary and repointing stonework.
In a conservation statement, Lippe wrote: "The basic strategy is to renew its uses and interiors without too great an impact on its distinctive form. A modest exception to this are two small extensions, one to the rear elevation that provides a new purpose-built modern entrance and much needed vertical circulation for all in the form of a lift and staircase. The second extension is located to the rear end of the northeast elevation to provide seating to the new café space."
To accentuate the civic nature of the build an artist will be engaged to provide etching or colour to newly introduced glazing.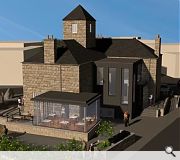 Existing businesses have raised concerns at increased competition from the venue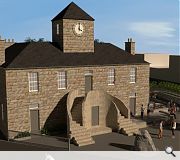 New additions are intended to be as unobtrusive as possible
Back to December 2021