£205m waterside neighbourhood to rise at Lancefield Quay
December 16 2021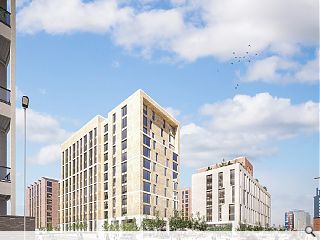 Updated plans for Glasgow's Lancefield Quay have been filed by Moda Living to deliver 780 build to rent homes in a £205m 'urban village' following an initial public consultation back in February.
Backed by property development and investment firms Osborne + Co and MRP (a division of McAleer & Rushe), the joint venture will transform a prominent waterfront plot that has lain vacant since 2007.
Outline plans by Keppie Design call for a series of public squares to open up river views on the four-acre site, transforming the brownfield site into a waterfront community.
Stephen Surphlis, MRP managing director, said: "We are excited about the impact that this development can have on the regeneration of an historic and important area of Glasgow, supporting a vibrant city centre community. The community consultation provided us with valuable feedback, with more than 90 per cent of people in support of the residential offering and agreeing that Glasgow needs new homes. The creation of well designed, well crafted and sustainable homes is high on the council's agenda and the Lancefield Quay site is ideally located to provide a thriving build-to-rent development which will fit in perfectly with the fabric of the area."
Conor Osborne, director and founder of Osborne+Co, added: "We have taken a strategic approach to these initial proposals and worked hard to ensure they align with Glasgow City Council's wider regeneration ambitions to open up the waterfront and create a vibrant new location within the city. Moda's involvement in the site will help us realise this ambition to create a single fully integrated development and we are looking forward to continued discussion with the council."
Moda is well advanced in the delivery of 425 build to rent homes on Pitt Street in Glasgow city centre.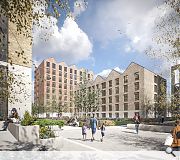 A central square will have open aspects toward Anderston Quay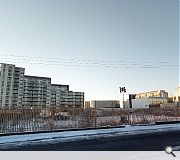 The four-acre plot has lain vacant since 2007
Back to December 2021